Staffordshire Cemeteries
---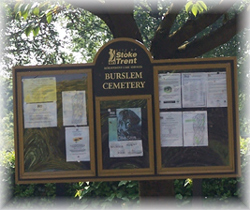 Burslem Cemetery
While the cemetery of Burslem, itself, is well kept and appears to be maintained, there is no records office onsite.
Carmountside Crematorium keeps a list of burials in the all the Civil Cemetaries in Stoke-on-Trent. These are arranged in date order, without name index. To find out about searching their records, contact Carmountside Crematorium, telephone: 01782 235050 or send an email to them.
---
SURNAMES - forenames mentioned
Some monumental inscriptions for Burslem can be found on the Wishful Thinking web site.
---
If you have corrections or would like to submit a photo to this collection please feel free to Contact Us. If you would like a larger, original copy of an individual photograph you are welcome to contact us. Provide exact details of photo.

All photographs are copyright to myself, while you may save/print for your personal records please DO NOT copy the photos or republish to another website.