Staffordshire Cemeteries
---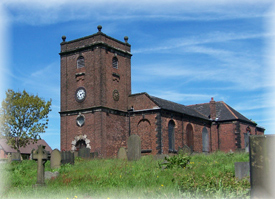 Saint Bartholomew - Norton
Saint Bartholomew dates back to 1180 in Norton when first evidence of a church at Norton appears. The original church was dedicated to Saint Nicholas. The building was replaced in the 15th century.
Around 1609 the dedication was changed to St. Bartholomew. The western end of the church was formed about 1737 while the eastern half doubled in size in 1915.
The rectory is in the patronage of CB Adderley, Esq, and the Rev GB Wildig, MA, is the incumbent.
---
SURNAMES - forenames mentioned
Some monumental inscriptions for Norton in the Moors can be found on the Wishful Thinking web site.
---
If you have corrections or would like to submit a photo to this collection please feel free to Contact Us. If you would like a larger, original copy of an individual photograph you are welcome to contact us. Provide exact details of photo.

All photographs are copyright to myself, while you may save/print for your personal records please DO NOT copy the photos or republish to another website. Photos taken in June 2006. Those marked "new" or "updated" were taken in June 2010.