Staffordshire Cemeteries
---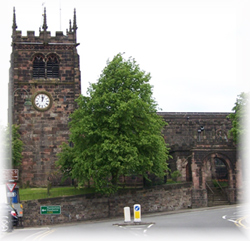 Saint Edward - Leek
"Leek parish church is a large and venerable fabric, dedicated to St Edward the Confessor, and standing on an elevated site near the head of the market place, in a large burial ground. It is a Gothic structure, with a square tower, which contains a clock, six bells, and chimes.
In the interior are several mural monuments belonging to the Dainty and other families, also a copper plate, dated 1597, to John Ashenhurst and his four wives and ten children. The vicarage is in the patronage of the Earl of Macclesfield, and incumbency of the Rev TH Heathcote, MA. The Revs J Barnes, MA, and EFT Ribbans, BA, are the curates.
From History, Gazetteer and Directory of Staffordshire, William White, Sheffield, 1851
---
SURNAMES - forenames mentioned
Some monumental inscriptions for Leek can be found on the Wishful Thinking web site.
---
If you have corrections or would like to submit a photo to this collection please feel free to Contact Us. If you would like a larger, original copy of an individual photograph you are welcome to contact us. Provide exact details of photo.

All photographs are copyright to myself, while you may save/print for your personal records please DO NOT copy the photos or republish to another website.