Staffordshire Cemeteries
---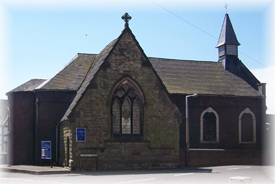 St. Martin - Talke O'Th' Hill
"In 1830, in a report to the Bishop the church was described as "a small brick building erected above 60 years ago; single body and very plain. The roof is timber, covered with tile but not in a good state of repair." In 1833 the church was considerably enlarged and the tower rebuilt." - Complete history of the church can be found here.
St Martin Church is located at Crown Bank, Talke, Stoke-on-Trent
---
SURNAMES - forenames mentioned
Some monumental inscriptions for Talke can be found on the Wishful Thinking web site.
The Monumental Transcriptions for the church can be purchased in book form from The Audley Family History Society
---
If you have corrections or would like to submit a photo to this collection please feel free to Contact Us. If you would like a larger, original copy of an individual photograph you are welcome to contact us. Provide exact details of photo.

All photographs are copyright to myself, while you may save/print for your personal records please DO NOT copy the photos or republish to another website.