SHERRATT FAMILY HISTORY
Other Sherratt Families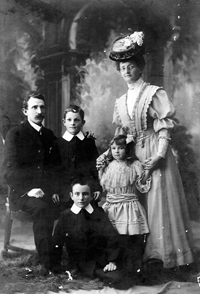 The following Sharrett line has not yet been connected to my Sherratt line, however, I have provided the information on this line in order to connect other Sherratts who may be related.
You may Contact Us about this line and we will put you in touch with living relatives of this line.
1. Hannah Sherratt b 1811 d 1834*
+ James Shaw b 1798 d 1870 Congleton (see notes below)


2. William Sherratt b 1832 Congelton, Cheshire d 1888
+ Elizabeth Hackney b 1832 Cheshire

3. James Sherratt b 1853 Cheshire
+ Amelia Wright
3. Alfred Sherratt b 1856 Chesire
+ Mary J Tildsley b 1865


4. Frederick William Sherratt b 1890 d 1971
+ Kate Shaw Isherwood


5. Dorothy Sherratt b 1917
5. Fredrick William Sherratt b 1937
5. Kathleen Sherratt

4. Walter Sherratt b 1891


3. Emily Sherratt b August 26, 1859 Cheshire d Dec 22 1909 Lancashire
+ John Sadler b 1859 Lancashire
3. Thomas Sherratt b 1864 Cheshire
3. Mary Elizabeth (Lily) Sherratt b December 19 1866, Chesire
+ Samuel George Jameson


4. Brenda Jameson
4. Norma Jameson
4. Jack Sadler Jameson b 1897 Queensland d 1939 Queensland, Australia
+ Evlyn Agnes Waddell


3. Frederick W. Sherratt b 1872 Lancashire d 1923 Prescot
+ Bertha Hill b 1874
3. Walter Sherratt b 1874 Lancashire
+ Alice b 1877 Lancashire
Note: Variations of spelling of Sherratt on official doccuments including: Sharratt, Sherratt, Sherrott, Sharret, Sherrett have been combined for ease - most often using Sherratt.
On 1841 Census William is living with Esther Wain (65) and James Shaw (45), he is only 8 years old. On same page there is a Charles Sherratt (60) with wife Sabra and children Hannah and Charles who are both 20. Also John and Hannah Sherratt both 60.
On 1851 Census William is listed as step-son of James Shaw. (Step is stroked out) saying William is actually his son. Down the road is shoemaker Charles Sherratt (83) and his children Hannah (32) and Charles(30).
On the 1861 Census William is married to Elizabeth, children James, Alfred and Emily, along with James Shaw (68) is living in the home.
Marriage record of William Sherratt and Elizabeth Hackney in England Cheshire parish records indicates William's father as James Sherratt. It is speculated that to not cause an issue, James Shaw was indicated to be James Sherratt.
James Shaw died in 1870, in Congleton.
Cheshire records office indicate William was the illegitimate son of Hannah Sherratt and James Shaw. They also indicate Hannah may be the daughter of John and Hannah Sherratt. A Hannah Sherratt died August 10, 1834.
Cheshire records have the following:
NAME: William Sherratt
GENDER: Male
BAPTISM DATE: 31 Oct 1832
BAPTISM PLACE: Astbury, Cheshire, England
FATHER:
MOTHER: Hannah Sherratt
FHL FILM NUMBER: 1655361
England, Cheshire Bishop's Transcripts, 1598-1900. Salt Lake City, Utah: FamilySearch, 2013.
A will of John Sherratt indicates his grandson William Sherratt along with his own children Mary willow, Samuel Sherratt, Elizabeth Whitehurst and Hugh Sherratt.
Sources:
1841, 1851, 1861,1871,1881, 1891 UK Census
FreeBMD
English Marriage Index
Sherratt Facebook Group
Contact via email looking for relatives
Other Sherratt Lines Index