Staffordshire Cemeteries
---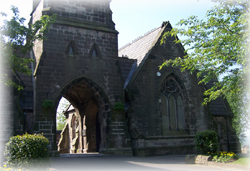 Leek Cemetery - Leek
Leek Cemetery is located at Condlyffe Rd, Leek, Staffordshire.
The Leek cemetery is very well maintained. During office hours you may request a printout of surnames buried at the cememtery.
Although a grave number is available on the print-outs, location of the graves is not available. Burial records includ Surname, Christian name, age, date of death, place of abode, grave number, date of burial and description/occupation. Records are only available prior to 1949.
Below are some monumental inscriptions/headstone photos at Leek Cemetery.
---
SURNAMES - forenames mentioned

BURIAL RECORDS:
SHERRATT burials at Leek cemetery from 1859 through 1949 can be found HERE. No photos available.

Some monumental inscriptions for Leek can be found on the Wishful Thinking web site.
---
If you have corrections or would like to submit a photo to this collection please feel free to Contact Us. If you would like a larger, original copy of an individual photograph you are welcome to contact us. Provide exact details of photo.

All photographs are copyright to myself, while you may save/print for your personal records please DO NOT copy the photos or republish to another website.