Staffordshire Cemeteries
---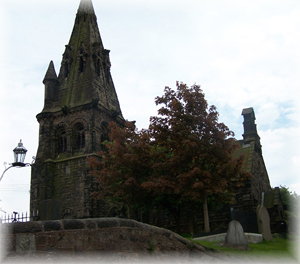 Saint Anne - Brown Edge
Brown Edge was originally a group of scattered homes and did not become a community until the 18th century when more families moved to the area to pursue coal mining.
Before Saint Anne's was erected in 1844, the village was part of the parish of Norton.
The church was built for "300 seatings". The land for the church and other buildings was a "gift". St. Anne is the patron saint of miners and Anne was the name of the wife of one of the benefactors, Hugh Henshall Williamson and Robert Heath.
---
SURNAMES - forenames mentioned
Some monumental inscriptions for Brown Edge can be found on the Wishful Thinking web site.
---
If you have corrections or would like to submit a photo to this collection please feel free to Contact Us. If you would like a larger, original copy of an individual photograph you are welcome to contact us. Provide exact details of photo.

All photographs are copyright to myself, while you may save/print for your personal records please DO NOT copy the photos or republish to another website.