Staffordshire Cemeteries
---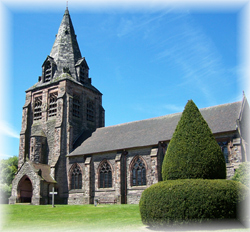 Saint Chad - Longsdon
The foundation stone for Saint Chad's was laid by the Bishop of Shrewsbury in 1903.
The church was dedicated by the Bishop of Lichfied in 1905.
The Ecclesiastical Parish of Longsdon was formed in 1906.
---
SURNAMES - forenames mentioned
---
If you have corrections or would like to submit a photo to this collection please feel free to Contact Us. If you would like a larger, original copy of an individual photograph you are welcome to contact us. Provide exact details of photo.

All photographs are copyright to myself, while you may save/print for your personal records please DO NOT copy the photos or republish to another website.