Staffordshire Cemeteries
---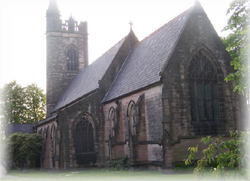 Saint Luke - Leek
The Parish church of Saint Luke was consecrated on the 19th December 1848, three years after the formation of a new Ecclesiastical parish.
The tower was added in 1854 and the chancel extended in 1873.
In 1996 extensive renovations were done to the interior of the building.
St Luke's church, on the eastern side of the town, is a handsome stone edifice in the decorated style, erected in 1848, for a district parish, formed in 1845 comprising part of the township of Leek and Lowe and the whole of Tittisworth. The perpetual curacy is in the alternate patronage of the Crown and the Bishop of Lichfield, and in the incumbency of the Rev Benjamin Pidcock, BA.
From History, Gazetteer and Directory of Staffordshire, William White, Sheffield, 1851
---
SURNAMES - forenames mentioned
Some monumental inscriptions for Leek can be found on the Wishful Thinking web site.
---
If you have corrections or would like to submit a photo to this collection please feel free to Contact Us. If you would like a larger, original copy of an individual photograph you are welcome to contact us. Provide exact details of photo.

All photographs are copyright to myself, while you may save/print for your personal records please DO NOT copy the photos or republish to another website.